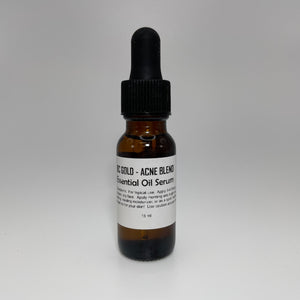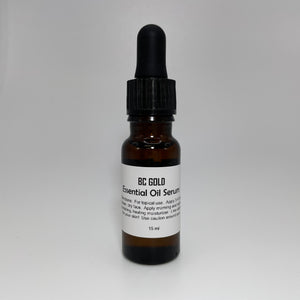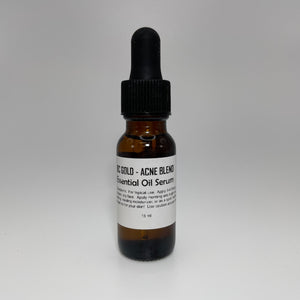 BC Gold
BC Gold Essential Oil Serum:  This is a daily use, moisturizing and healing oil.  Only 3-4 drops per day your skin will drink it up.  This therapeutic grade, essential oil rich blend is 100 percent natural, vegan, plant based, preservative, chemical and water free product.  You're skin will absolutely respond to the purity and healing benefits of this product.  After decades of struggling with cystic and hormonal acne, this has been an amazing find!  
HEALING INGREDIENTS:  Jojoba Oil, Rose Hip Seed Oil, Sweet Almond Oil, Borage Oil, Vitamin E Oil, and a proprietary blend of essential oils.
BC Acne Blend:   Like it's sister product BC Gold, BC Acne is a daily use oil blend that is formulated for more topical based, teen-like acne.  It is 100% pure, natural, vegan and plant based product that is preservative, chemical, water and fragrance free!  This blend is highly anti-bacterial and calming.  Helping to heal and balance the skin naturally without the stripping and damaging side effects of most skin care, acne fighting products. 
HEALING INGREDIENTS:  Grapeseed Oil, Jojoba Oil, Argan Oil, Vitamin E oil, and a bacteria fighting proprietary blend of essential oils including Melaleuca.
To enjoy the full benefits, we recommend the complete 3 step skincare system.
STEP 1:  Wash with our best selling activated charcoal BC Facial Bar or BC Wash.  The all natural, vegan soap with activated charcoal, bentonite clay and yummy healing essential oils, work like a magnet to lift and carry away pore clogging impurities.
STEP 2:  Cleanse and purify with the all natural, essential oil based astringent wipes known as BC CLEAR Astringent Wipes.
STEP 3:  Moisturize with either BC GOLD or BC Gold Acne. Even though they are oils, your skin will drink them up like the vitamins it is sorely in need of.    3-4 drops per use is all it takes.  BC GOLD is formulated for cystic acne, anti-aging and hormonal skin.  Choose BC ACNE for a more topical or teen type of acne.  The oils in this blend are known to fight bacteria, boost immunity, and calm the skin