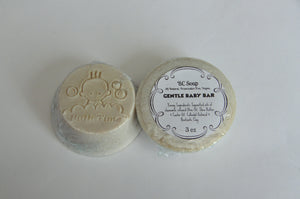 BC Soap--Gentle Baby Bar
Bella Creation cold processed soaps are vegan and made with all the best, all natural ingredients.  If you've never used natural hand made soaps, you will never go back.  You will notice your skin is less dry and softer.  They are chemical free, fragrance free and made with the highest quality butters and oils. All are made with essential oils for a light fragrance and health & healing benefits.
YUMMY INGREDIENTS:  Saponified oils of Chamomile -Infused Olived Oil, Shea Butter & Caster Oil, Colloidal Oatmeal & Bentonite Clay.
3 oz.