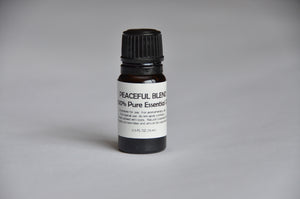 Peaceful Essential Oil
100% Pure Essential Oils
How to Use:  Apply 1-2 drops to desired area.  Apply 1-2 drops at bottom of feet Add 2-4 drops to a hot bath.  Diffuse 60-90 minutes daily.
Ingredients:  100% Pure Essential Oils of Orange, Geranium, Patchouli, Lavender, Ylang Ylang
15 ml
**Also available in Peaceful Essential Oil Rollerball and Peaceful Essential Inhaler.