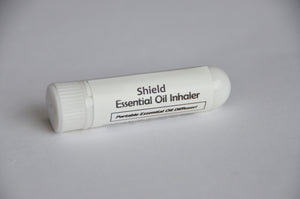 Shield Essential Oil Inhaler
 "SHIELD" yourself as we come into cold & flu season. This blend is made with Essential Oils known to be strong germ fighters! Comes in 4 different, easy to use products. This product a favorite of teachers.....Shield up!
Directions for use:  Remove cap, slowly and deeply inhale through one nostril.  Repeat using other nostril.  Relax!  Use as needed.
 0.2 oz
**Also available in Shield Essential Oil , Shield Essential Oil Rollerball, & Shield Spray